Post by Britta on Dec 14, 2014 20:39:08 GMT -5
Let's just jump right in!
First of all, the dragon is 7 1/2 inches tall when sitting (measured to the top of the spines), and 10 1/2 inches tall with the legs extended (again, to the top of the spines). It is pale lavender with pink wings and peach spines down the back. The fabric on most of the dragon (head, arms, legs, and back) is plush and very soft and silky feeling. The bottoms of the feet, tail, and belly are made of a very soft, fleecy fabric with a corduroy appearance, the wings and horns are silky and shiny , and the spines on the back are made of a ruffled piece of thick, velvety material. The dragon's claws are made of a kind of flannel-like material that catches on your fingertips easily, like the fabric used on cheap baby dolls' pajamas. The claw material is the only fabric that doesn't feel really high quality, but at the same time, I'm really impressed they actually sewed individual nails and didn't just use triangles of felt.
The dragon's eyes and nostrils are embroidered. This makes the dragon look like a baby toy to me, but the tag says it's for children 3 years and older. I'm guessing this is because the dragon has a lot of beans in its butt (it's heavier than it looks!), and those could potentially come out and pose a choking hazard.
Front: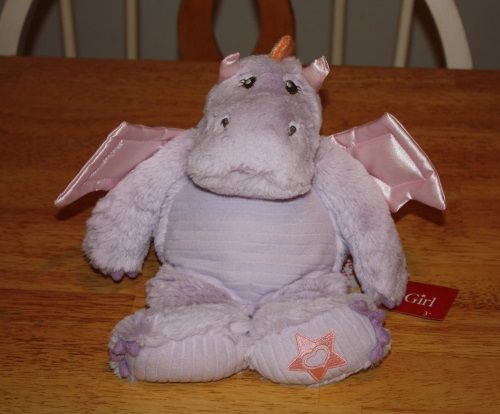 Side: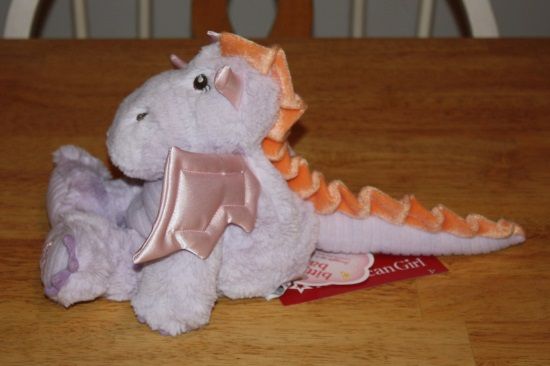 Face: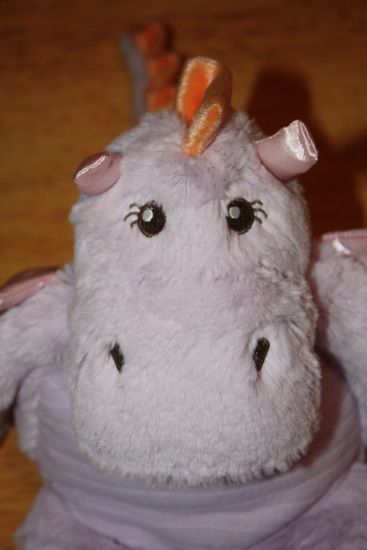 Spines and Tail: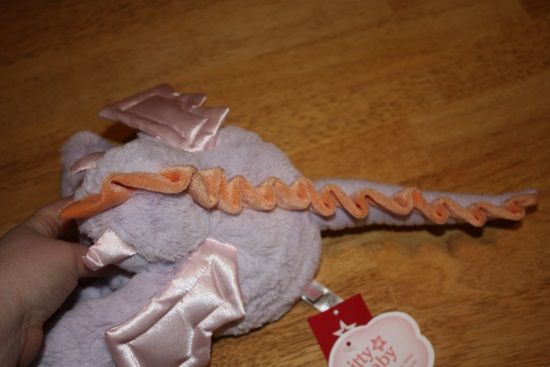 The spines are very thick and soft and stand up nicely on their own. The tail is well stuffed and sticks out behind the dragon even when you pick it up.
Nails:
Tummy: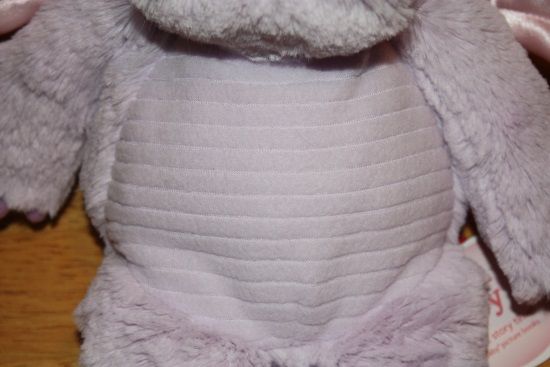 The tummy is very fat and soft. It's stuffed enough to hold its shape, but is still very huggable.
Wings: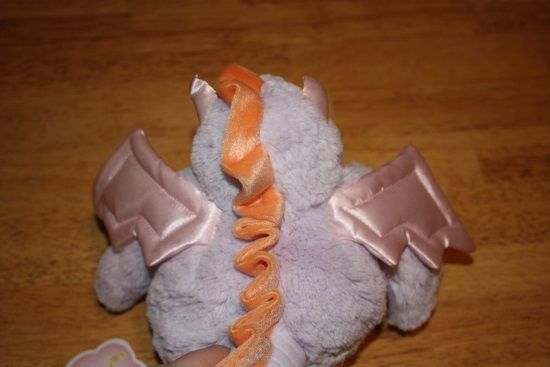 The wings seem like they will hold their shape well and there's a layer of batting between the layers of fabric. They stay in place well and don't flop around. A child could certainly make the dragon "fly" and flap her wings, but they should go back to laying flush against the body afterwards.
Specific details aside, this is a very well made plush. Mine looks exactly like the one in the stock photo. I'm really picky about stuffed animals, and this one is perfect. It looks like it stepped (flew?) out of an American Girl photo shoot. The limbs are all the same size and length, nothing's twisted weirdly or sewn on at an angle, and the materials used are all very high quality (with the possible exception of the claws, as I described earlier). I have not washed the dragon and it hasn't really been played with, but it really seems like it would hold up to a lot of loving! The possible exception is the wings, as the material may snag easily. I also think the dragon is incredibly cute and very unique!
The list price for these plush is $30. Before I bought this dragon, I felt the price was a bit steep, and got mine for $12 on sale. It is well worth $12, and I would actually say it IS worth $30 if you compare it to similar plush. Similar types of stuffed animals are made by the company Jellycat, and a plush of this size would list at about $35. I own several Jellycats and have given many as gifts, so have a lot of experience with them and they are known for making good quality plush. They even make a dragon, which I have seen in person. This dragon is much nicer than any Jellycat I've seen (both in quality of materials and quality of construction), and is definitely nicer than Jellycat's Dylan Dragon. The Bitty Baby dragon is a bit shorter, but fatter, so I think the comparison is fair. I should note that I'm not sure the other Bitty plush are worth $30. The dragon is the only one I've seen so far, but it has a lot of extra pieces and detail that the other plush do not have (tail, wings, spines, multiple types of fabric used, etc).
My overall grade for the dragon is an A. The only thing keeping it from being an A+ is that I feel the design would have been improved if they had used normal plush eyes instead of embroidered eyes. As I mentioned before, the embroidered eyes make this look like a baby toy. That would be just dandy if this was sold as a toy for babies, but it specifically says on the tag that it isn't for children under 3 years of age. I feel like this plush would appeal to a broader range of people if it didn't look like a baby toy. A 3 year old or 5 year old probably won't mind the embroidered eyes, but a stuffed animal loving 10 year old who would otherwise want the dragon may not want it if they think it looks like it's for babies. Even as a doll collecting adult who also has a large collection of stuffed animals, the fact that this looks like a baby toy makes me disinclined to keep it for myself, just because it feels weird to me. As cute as it is and as much as I love it, I will probably hold onto it for a couple of years in the hope that I will have a baby to give it to, or I will give it away as a gift to a special little kid in my life.