Post by cbsdiamond on Feb 19, 2015 11:41:58 GMT -5
Okay, so I purchased the new set this month. It includes a plaid cotton dress, pinafore, white socks, black and white boots, measuring tape, scissors, and a bird pincushion. Retail cost is $48
Dress
Overall, I really like this dress. It is a simple short sleeved dress with a wide neck, gathered bodice and just below knee length. It is quite similar in style to the tan summer dress, but the cut is slightly different and the colors are definitely different enough to make it completely unique. The dress Velcros up the back and is quite snug on a Pre-Matel doll, but it will close up if she has no extra undergarments on (no shift, chemise, etc, she can wear bloomers). A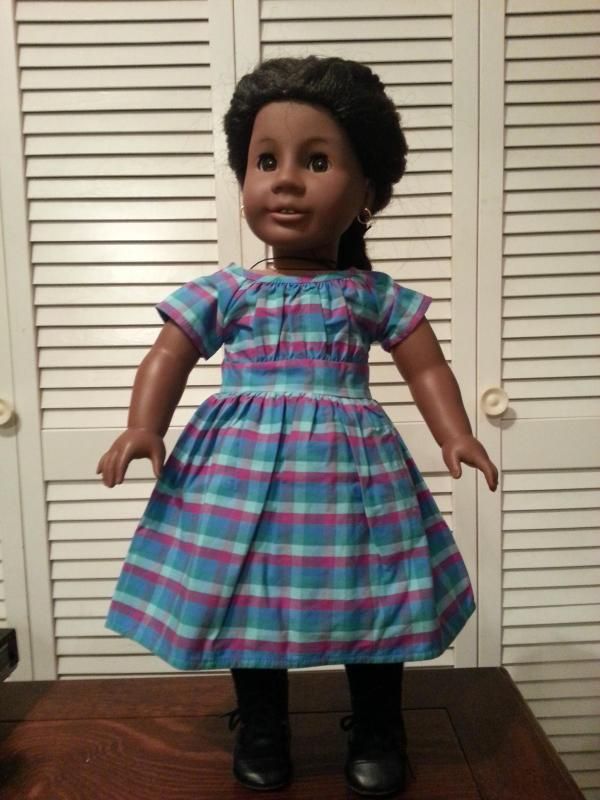 Pinafore
I'm really not quite sure what the difference between an apron and a pinafore really is, but this is open in the back with a simple tie, like the apron from the summer set. Once again, it is a different cut and I think the purple rough ribbon trim really ads a nice change for the apron. It has no trouble reaching around her tubby PM body and the two front pockets are real, so she can put her sewing things in her pockets for storage. A+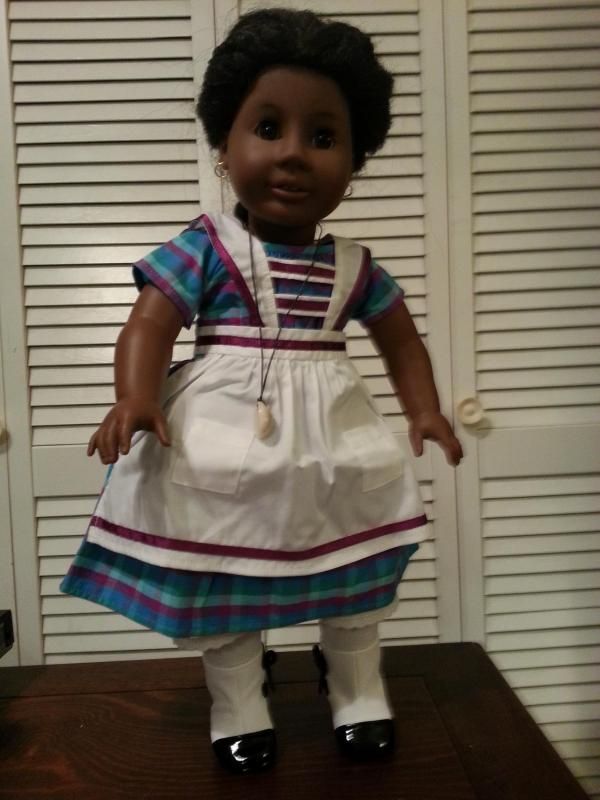 Socks
So honestly, the socks were rather disappointing for me. While they are a solid thick sock, they only go to just below her knees, unlike her old mid-thigh stockings. You still cannot see her leg "skin" with the long pantaloons on, but if she had shorter bloomers, I think we might (Scandal!!). B+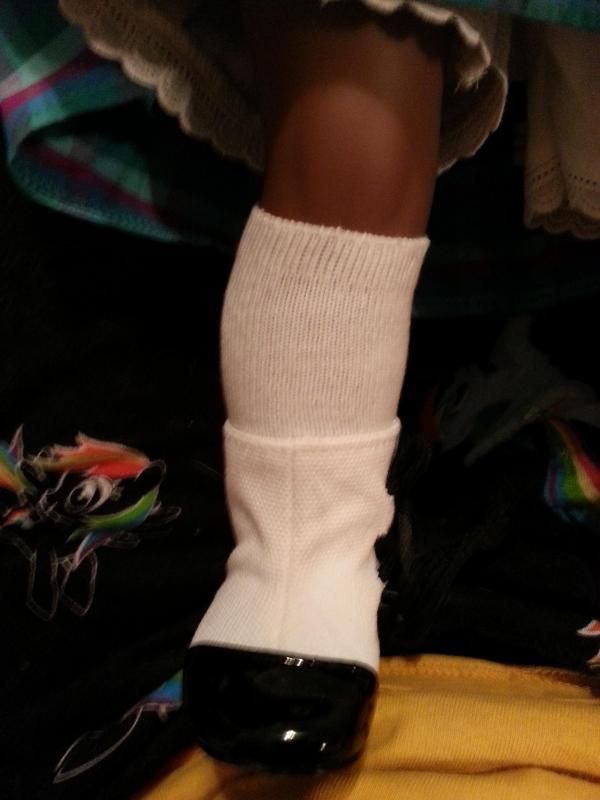 Shoes
- Also another disappointment for me. The white canvas boots with "patent leather" toes and inside laces. The laces do not function, they actually Velcro up the back. I personally found it much easier to put on her old lace up boots than getting these suckers on. The Velcro snagged on the socks, and between the thickness of the socks or her chubby PM feet, it was a really snug cram to get them on, and her foot doesn't really fit inside them, so there is a slight bulge on the back where the Velcro couldn't quite meet up all the way at the base of her heel. B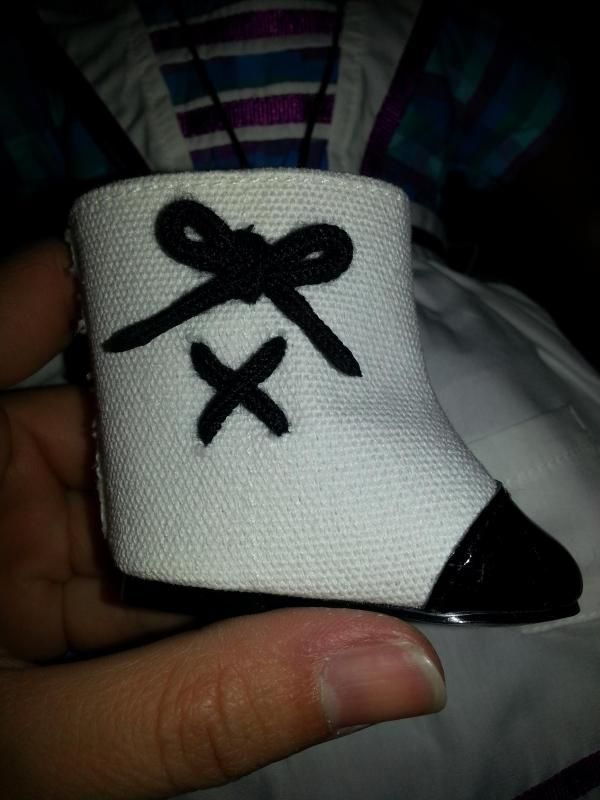 Sewing things
The measuring tape is a soft ribbon type material with plastic ends. The measurements are true to our scale. I think it would have been a nice touch if they had been scaled down to her size, but I do understand that this could be confusing for small kids learning about inches and other measurements. The scale is only in inches, for those of us accustomed to cm, we're out of luck. Still cute and folds up well in her pockets.
The scissors are plastic (I would have loved to have seen metal, but I do understand tiny metal scissors, even if they weren't sharp, could be a hazard for an 8yo). They are made out of a solid grey plastic, not painted, and they do open and close correctly - fun perk I was not expecting once I saw they weren't metal.
The pincushion is also solid plastic with a flocked outer and two plastic pins permanently attached. I really would have liked to see this actually be a pincushion, there is no excuse in my mind for it not being, really, a kid can't be hurt or be confused by a pincushion and I think they could have gotten the plastic pins to be permanently fixed into a real pincushion. It is cute though sitting with her and since she doesn't have real pins, I guess she doesn't really need a real cushion. With her hand tilted just right, she can hold it.
Although I wasn't over the moon with some parts, I do enjoy the set and really like the variety in color to Addy's line. Would recommend the purchase.