Post by rms on Apr 11, 2021 14:26:33 GMT -5
World Traveler in England
Website Description:
From the streets of London to the rolling countryside, there's so much to see in England. So, grab your mates and explore in this England-inspired outfit. Just remember to "mind the gap" on the Tube! This outfit includes:
A red plaid dress with a gold-button side placket and gold epaulettes on the sleeves
A skinny gold belt with a buckle to give the outfit a touch of glimmer
A pair of light-blue knit socks
A pair of shiny black boots with just a little bit of sparkle
A red fisherman-style cap with a navy brim and gold trim to wear while out strolling
The website description isn't entirely accurate. The sleeves of the dress don't have any kind of gold decoration, and the brim of the cap is black, not navy. The dress does have a line of gold buttons down the front, but there's no extra placket of material, they're just sewn to the bodice of the dress as decoration.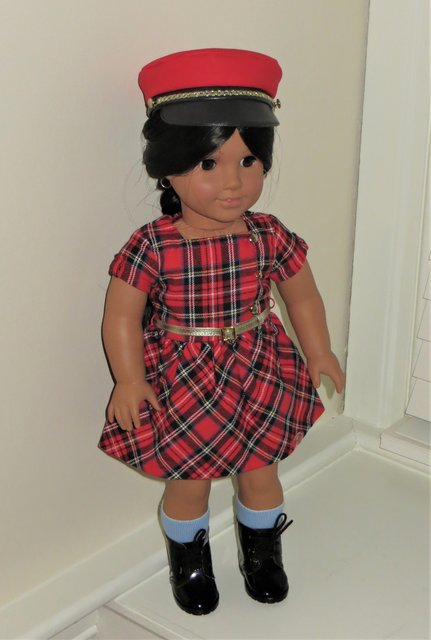 The red plaid material of the dress is nice and soft. The 3 decorative buttons on the front are metal. The sleeves are decorated with little loops of the same plaid fabric. The dress has 2 thin red cord belt loops at the sides.

The hat is too small to sit well on PM Josefina's head, but likely would fit a newer doll better. The red part is a sort of plastic-y fabric, and the bill and band around the bottom are black pleather. I had to stuff the front with tissue paper to get it to stand up like in the stock photo. The front is trimmed with 2 metal buttons and some gold cord.
The belt is silvery-gold pleather. The buckle is gold metallic plastic. It's a bit of a tight squeeze to thread the belt through the buckle, and I'm afraid the gold finish of the belt material will wear off with repeated uses.

The boots are thin black plastic, with very faint multi-color glitter flecks. The soles are hard plastic, and the laces are plain black cord. There's a length of black ribbon down the back that forms a loop at the top.

The pamphlet that comes with the set has some info about tourist activities in England, and instructions to make a passport for your doll.

The outfit looks really cute together. I like the light blue socks paired with the red dress - it's a nice change from the usual matchy-matchy look. (There's a faint light blue stripe in the plaid of the dress, so I guess technically they do match, but you can barely see the blue in the dress). I give the outfit an A for the style, but a B for quality. The plastic of the shoes and belt feels very flimsy.