Post by maggiedoll on Dec 25, 2008 21:22:32 GMT -5
Hey, it's NEW
New!
Hanukkah Gift Set
Item# F8736
American Girls can celebrate Hanukkah with this special set:
Six shiny coins, called gelt
A dreidel—a toy that Jewish girls have loved for centuries
A velour bag to store the dreidel and coins
A menorah with nine pretend candles
A pretty gift box that holds a doll-sized bracelet
$20
Not to be confused with this: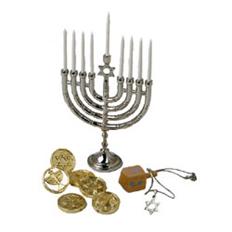 Hanukkah Gifts
Mark the eight days of Hanukkah with the menorah and pretend candles. Give your American Girl a silver Star-of-David necklace and four golden coins called gelt. Spin the dreidel—a toy that Jewish girls have loved for centuries.
$14 GCAH

In sweet life:
The
menorah
is made of heavy metal. It looks like the basic classic menorah. This is my first menorah but I'm assuming that it does not have a high tarnish rate. The
candles
are made of flexible plastic and can come out of the menorah, which is a tight fit. If this is for a kid I would recommended gluing the candles in the menorah because once they are out I'm assuming that they will be lost. They kind of look more like birthday candles than religious candles to me.
In scale with a doll. She can't hold it but it looks nice next to her. I'm not positive it is correct scale for "real life."
The "improvement" to this set is the girlify (yeah, made up a word!) the accessories and add a box and bag. The
velour bag
is big enough to store the plastic
gelt
and the
dreidel
. Plus it gathers up closed and looks pretty for the doll to hold. But, why does American Girl have to label everything? To add in the storage possibles, the bag fits into the
box
!
The gelt are right size and made of light plastic one side shows the Star of David and the other is menorah. It is light and makes a great dreidel game.
Dreidel, dreidel, dreidel, I made you out of cheep wood. I guess the powers to be decreed that girls needed a light blue dreidel. The best part is that the doll can hold her dreidel!
The box is made of thick cardboard with heavy paper covering. But it is too little for a cool present and too big for this girls present-
WHY American Girl WHY replace the classic, wonderful Star of David necklace for this? But hey it has beads so that makes it better.
The bracelet fits well and it is pretty and girly. It also seems to stay on the doll well, which is good because my new dolls is keeping this thing on. The picture is bad, I know.
The doll with everything.
To be frank, I probably would not had put this in my B&B bag unless I read this on AG's website:
Please Note:
This item is only available online and in American Girl retail stores while supplies last
I've been "almost" buying this set for about four years now. I figured that it was now or maybe never.
Compared to the original set, I kind of wish that they kept the original set. American Girl did seem like they tired to top the last one for the everything is relatively well made. I would had preferred a necklace to a bracelet. I would not recommended this to a small kid. To many things to be lost and the bracelet would not be made for small hands. I do love how well the set can be store and it looks pretty on display every winter. B