Post by PleasantMemories on Jun 18, 2009 15:38:20 GMT -5
A
The AG Description:
Bitty Baby looks sweet in her matching
dress and hat
with sequins and fabric flowers sewn inside. Add her cropped
jacket, tights, and shoes
. Bitty Bear gets an
apron
, and for you there are six
pop beads
and a
coloring book
about Bitty Bunny's flower garden!
This outfit is probably one of the most frequently used Bitty Baby outfits at my house. The outfit still looks like new after years of play. While I haven't washed the doll outfit, I've laundered the girl sized outfit many times and they also look like new.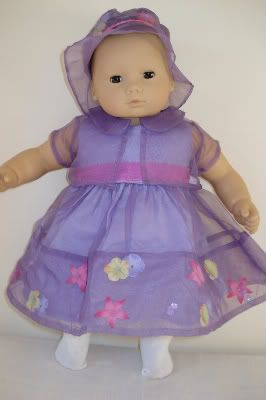 Dress:
The sleeveless dress is cotton with purple sheer detail (organza?). It's cut wider for the Bitty Baby, but also works on the 18" doll. The stitched diamonds add additional detail to the bottom of the dress and help the flowers stay nice. Our dresses have seen lots of playtime and the flowers don't look wrinkled or worn. The bottom design continues all the way around the dress.
Hat:
The hat is made very much like the bottom of the dress. It fits well on both Bitty Baby and the 18" doll. However, I would worry about the hat slipping off Bitty's head if she traveled out of the house. For that reason, I prefer other hats with ties.
Jacket:
The cropped jacket is made of the same material as the bottom part of the dress and the hat. While it's a nice piece, it isn't necessary to complete the outfit. The jacket fits well on the Bitty Baby. While it's cut a little wide for the 18" doll, it still looks okay.
Tights:
The white tights are the typical American tights. They're nice, but snag on the dress Velcro. The tights fit both the Bitty and 18" dolls well.
Shoes:
The purple shoes are one of the best parts of the set. They Velcro and fit well on both the Bitty Baby and 18" dolls. They also have a fair amount of mix-and-match potential with other Bitty and AGoT/JLY outfits (Sorry, the shoes didn't make it in the photo).
Apron:
The apron is one of my favorite Bitty Bear/Bunch pieces, since it's a little more than a hat or collar. Like the rest of the outfit, it's well made. If you ignore the open back, it can double as a dress.
Toy and Book:
Our sets were purchased at the outlet and didn't come with the pop beads, so I can't really comment on them. The coloring books are always a little disappointing. The book is too small for young children to color. Also, unlike many of the earlier sets, this set does not come with crayons.