Post by EofA on Sept 17, 2009 20:32:15 GMT -5
Great for a spa day—or any day!
When American Girls are ready to relax,
they'll love to lounge in this cushy chair. $49
I have a thing about chaise lounges/fainting couches and I keep waiting for this one to go on sale. I swear it has not been marked down at all since it debuted in 2008 and, you know, I'm cheap. I will not spend $49 on it.
I fondled, pawed, and otherwise made myself intimately acquainted with this piece when visiting a store, so I thought I'd post photos here since it has not yet been reviewed.
AG markets this mostly as a spa chair, but I think it would look dishy in a posh bedroom setting. The pink velour-like fabric has a slight sheen to it, so that negates the class factor in my book. Too bad it isn't a mauve or burgundy color, but that's not likely to appeal to the target demographic.
I will say that the piece seems quite sturdy, with 5 legs to rest on, and it seems well-constructed. Obviously I cannot speak to how it holds up to play as yet, but I think it will make a lovely collector display piece.
If you don't mind having your doll sprawled on it like an undignified drunk, that is. I could not get our doll to sit up properly without her looking all tense and un-relaxed....which sort of defeats the purpose of a chair upon which to 'sit and relax.' (Stella looks like she's being visited by a vision of Angry Jess here).
So for concept I rate this thing an A, but execution and retail price drop it down to a solid B. Will update this review when I actually get the piece....after it goes on sale, if it goes on sale.
---
Received this item as a gift, but I have a nagging wish that my loved one had waited for it to go on sale. I remain firm in my conviction that this piece is overpriced.
It's not that it is badly constructed for the money. Nope, it is plenty sturdy and will definitely hold up to kid play.
It's just that the scale is wrong for AG dolls.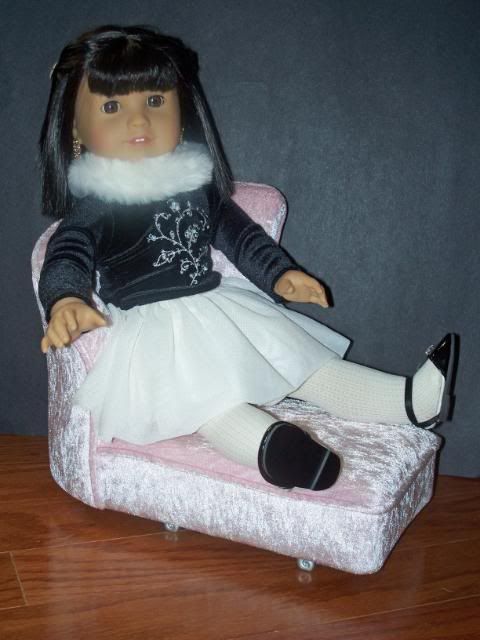 This is as comfortable as I could get my doll to look in the chair. Sitting, yes (more like jammed into a corner, really). But relaxing? No. She looks like she is stiffly perched on a chair that is too small for her. And in fact, that is exactly the problem. It's too small.
However, Ellowyne loves it. It's perfectly scaled for her beauteous flexible 16 inches.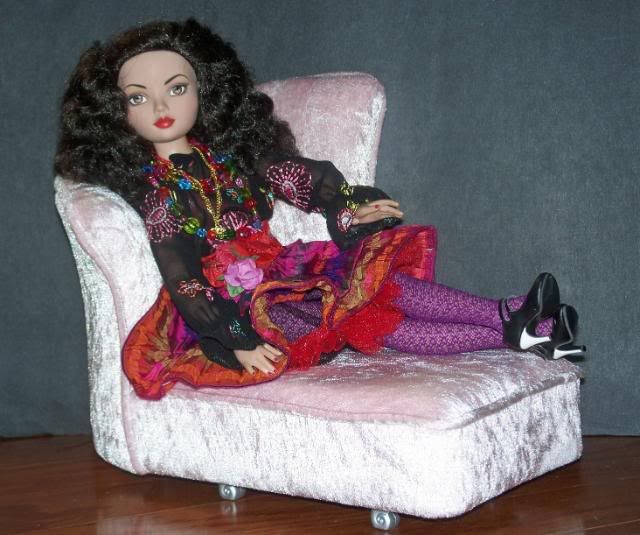 I say, go ahead and get this for your fashion dolls at the best price you can. But skip it for your AGs.