Post by kcb320drm on Aug 27, 2010 0:37:06 GMT -5
"Western Riding Outfit for Dolls + Charm
Item# G1717 $30
Giddy-up! My American Girl™ dolls can play with horses all day long in this rustic outfit. Her doll can spend time at the ranch in this casual set, featuring:
-A short-sleeved tee with horse-and-heart print
-A denim skirt with a double layer of ruffles
-Tall western-style boots to wear while she rides
-A braided ribbon bracelet for good luck
-A "Loyal" heart charm for the doll's charm-keeper necklace"
I adore this outfit!
First let's start with each piece
Short sleeved tee: A
Super cute! I love the color of red they used and it goes with almost all of the bottoms my girls have. The collar and sleeves have a different edge than the bottom of the shirt witch I really love, it's really hard to describe though so I will add pictures tomorrow when I have natural light. The graphic on the shirt is cute and I like how all the colors used in the graphic are neutral so it can go with more. The shirt is quite thin that's why there is no plus but it works because there is no unnecessary bulk to it. The velcro at the back of the shirt is soft a doesn't seem like it will easily catch on tights or a skirt. Overall it's really great and fits nicely on all of my dolls.
Skirt: A+
It's a light weight denim and is beautiful as well as versatile. It has an elastic waist so no snagging on tights!!! YAY! It hits right above the knee, a really great modest length. The double ruffle layers are well done and the fraying on the edges adds a nice touch. There is no chance of more fraying because there is a stitch going all the way round the skirt to prevent it.
Boots: A+
Hard to describe. They are cute and have a soft velcro closure at the back, I have had them on with tights and socks and the fit nicely and didn't snag on the velcro. They look great too.
"Lucky" bracelet: B
Cute, tight and odd looking all at the same time. It's nice to have but I don't think I will use it, it has a velcro closure.
Overall: A
Very cute outfit but needs more for $30 maybe they should have included the hat...
I will add pictures tomorrow.
ETA: Well not exactly tomorrow but here they are:
Close up of neck and sleeves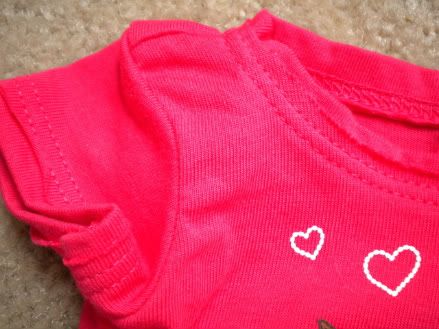 Close up of graphic
Full shirt
Marisol in full outfit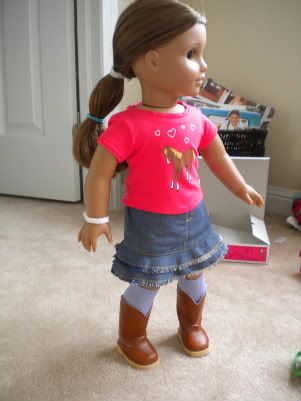 Skirt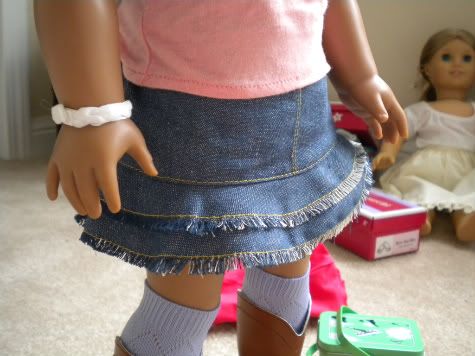 Charm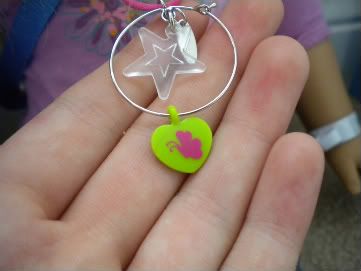 Lucky Braclet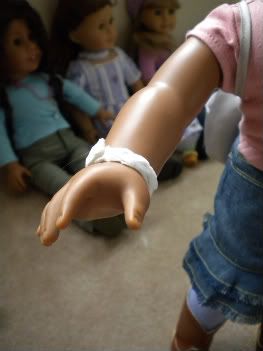 Skirt
Boots