Post by cassandra on Mar 1, 2011 14:40:37 GMT -5
I don't think that this is a terribly popular AG outfit, but I must say that I really like it.
This outfit was originally offered as two separate sets (Downhill Ski Outfit GWODR, and Downhill Ski Gear GWADR), but I won them from ebay together. I would highly recommend purchasing the complete set; it would be relatively hard to mix/match due to the coloring. Although in real life my kids' outdoor stuff doesn't match at all, so maybe it would be fine for dolls to experience the same? LOL
This is what's included:
* green & grey ski jacket with reflective stripes
* matching grey ski pants
* green & grey hat
* grey mittens
* goggles
* "lift ticket" for the ski jacket
* cream colored ski boots
* skis
* ski poles
The outfit fits really well (on Mattel AGs, at least), and is sooo cute. I am super tired of pink & purple options for our dolls, so the color choice is just right for me. I could see that other people, especially target market girls 10 years ago, might think it too drab, but in my eyes the green and grey are quite beautiful and make a nice contrast to the otherwise bright modern winter outdoor stuff.
I've seen pictures of this outfit that make it look completely grey, and others that look kind of lime green, but it's really quite a pretty combination of a sort of light mint green and gunmetal grey. I think the photos below are pretty accurate.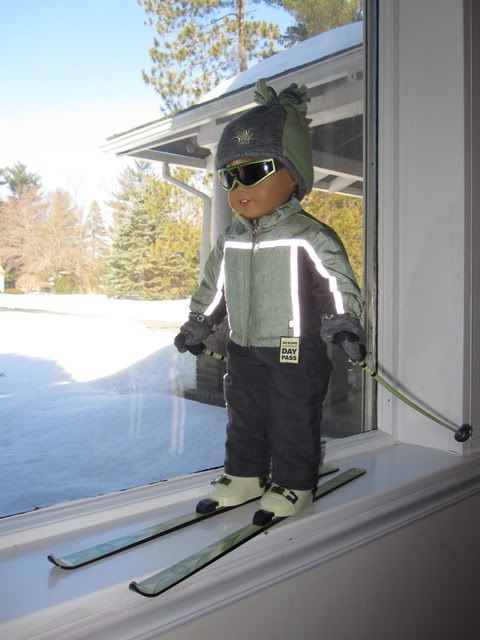 Back view: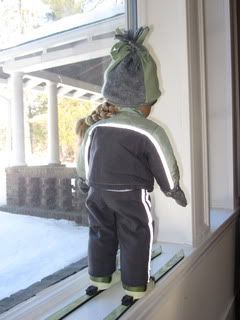 The ski pants fit pretty well and are roomy over the doll's butt, which isn't always the case with modern pants/snow pants.
The hat and mittens are fuzzy warm material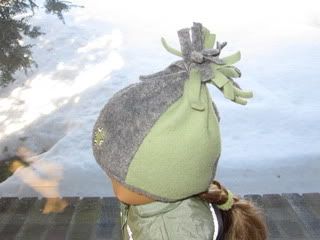 One of my ski boots is missing one of the hooks but it doesn't show when the ski pants are over them. I don't think that the hooks actually work – I'd be afraid to try to tighten them like real ski boots – but they look authentic enough.
The ski boots slide into the skis from the side
The poles are a little hard to fit on the doll's hand, but we put the mitten through first and it looks fine. I don't know if they are supposed to be slightly curved; they came to me that way.
The reflective stripes on the jacket and pants really glow in the low light/flash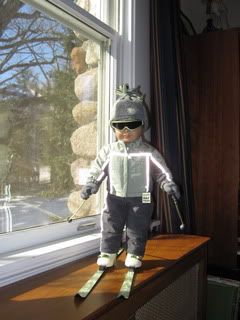 I give this outfit an A