Post by Keri on Dec 12, 2006 4:06:28 GMT -5
GSOF $22 - discontinued 2003 (see Meg's Guide year 2001 for the listing)
B+
This outfit consists of a wrap jump, a longsleeved t-shirt, and a pair of mary jane shoes. It is utterly divine.
The t-shirt is a pinky-lavender color with loose sleeves, rather than tight ones like the current JLY meet outfit, and there is a pretty flower design on the outside of each.
The jumper is a purple-tinted denim with tiny magenta lace along the top, where it wraps, and lavender satin at the bottom. The front panel also has royal blue and pink scalloped beading just above the satin. The jumper closes with a small snap that attaches the bottom panel under the right arm, and a hook-and-eye closure attaches the upper panel under the left arm. The snap was surprisingly easy to use, but the hook-and-eye took a few seconds to get.
The shoes are a dark purple suede-feeling type, with a chunky black rubber sole. The straps double-over to velcro to themselves which makes them really easy to put on and off! They're a purple microsuede material and maryjane style. The sole is thick, very 2001 style, and black. The strap doubles over and velcroes to itself.
I think they're a little darker in person than this image makes them out to be. I love the shoes, and Beatrice wears them with her jeans a lot.
I love how divine this outfit is, and it's not overly trendy. It looks very much like a nine-year-old's school dress - appropriate for play, but still nice enough to wear to school. It's also not overly pastel, which is nice. And I love the purple shoes!
What I don't like is the hook-and-eye closure. I'm always pulling those things loose, and it was a little hard for me to get, so I fear that I'll be pulling it loose, too.
Also, the skirt seems a little short to me. It is just above the kneecaps, where I'd have liked it to come just below the kneecaps. There are no tights or socks included, so her legs look really bare. On the other hand, the jumper can be worn without the t-shirt, so it would make a nice spring-time dress, too.
The school accessories from 2001 look really divine with this outfit. The crochet hat is the same color as the lace edging of the jumper, and so is the little felt purse.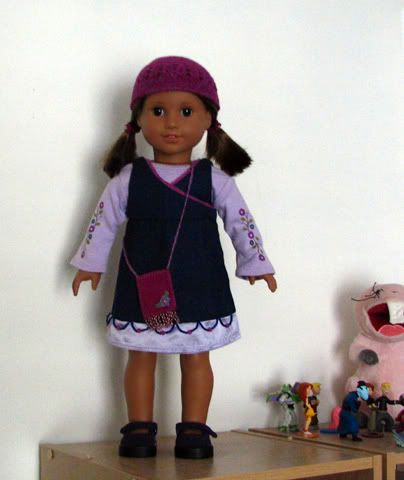 This is the entire outfit, plus the school accessories. The picture is rather poor, I haven't figured out why, but it makes the jumper, shoes, and hat rather grainy.
And here is a view of it without the shirt underneath, as Beatrice plays "Godzilla" and attempts to knock over the Eiffel Tower. As you can see, Giant Rufus and Kim Possible have come to the rescue, while Shego and Dr Drakken watch. Yay!
--- KERI