Post by EofA on Oct 11, 2011 12:46:01 GMT -5
In the 1850s, young ladies would have freshened up at a fancy vanity like this one, complete with an elaborate pitcher and bowl!
A vanity stand with a rich wooden finish, an adjustable oval mirror, and a drawer that really opens to store Marie-Grace's morning necessities

A ceramic pitcher and bowl for freshening up

An embroidered linen towel

Faux bottles of lavender and rosewater offer the clean, fresh scent that was a common perfume in Marie-Grace's day

Original Retail: $80
---
The Vanity Set was on backorder for nearly 6 weeks following the debut of the rest of the collection.
The big question for a lot of people has been whether the piece is wood. Frankly, I think that depends upon your definition of 'wood'. I am not a construction expert but I believe that the piece is a composite, consisting of wood fiber and plastic formulations. It is not virgin hardwood, but I believe that is par for the course since the beginning of AG times for small pieces of doll furniture. The vanity is IMO a modern homage to the kinds of fine, detailed boudoir pieces created for the French fashion dolls that became so popular in the 1850s. Try looking online for those pieces and take a gander at the cost and the reason AG went with modern materials for the construction of this child's toy becomes obvious!
Overall it is well put together, sturdy, and very pretty. I think this vanity is a lovely piece but it is just slightly undersized IMO for what should be a 10 year old girl. Grace has to stoop to look in the mirror or flip it up awkwardly with the bowl on the table. As a tall person I can testify to how annoying stooping is in a world made for smaller people! So I'm a bit disappointed in and irked with the scale, but that probably won't bother most people. Perhaps the backstory is that it was a piece from her early childhood that she's grown out of?
The accessories are twee and sure to delight children and adults who don't mind plastic bits. The lid comes off the purple container but does not on the pink one. I personally think the purple container is way too big, at 3 1/4 inches, to be any kind of realistically scaled perfume bottle. The smaller pink container is 1.5 inches and thus is more to scale. The towel was folded oddly in the package, at least to my tastes. It has delicate machine embroidery on it. I've added some of my own miniature things to compliment a scene, and I think it is a great piece to create a diorama around. The china bowl and pitcher remind me of Samantha's, with a pretty bit of transfer decoration.
All in all, I think this is an appealing piece of furniture and its inclusion in the collection adds period authenticity for the 19th century. There are other things that I think would have added more to this collection from a NOLA-centric point of view, but all in all a nightstand isn't a bad choice. It's just not terribly unique, and reminds me of the nightstand sets made for the other dolls. OTOH, that might be why it will appeal to many avid AG collectors, for that kind of continuity.
I am not troubled by the composition, but I'm giving the Vanity Set an A- because of the scale issue.
Note that while technically AG designated the Vanity for Marie-Grace, it of course can be used for either doll and is meant to be a compliment to the bed in the NOLA collection.
Photos: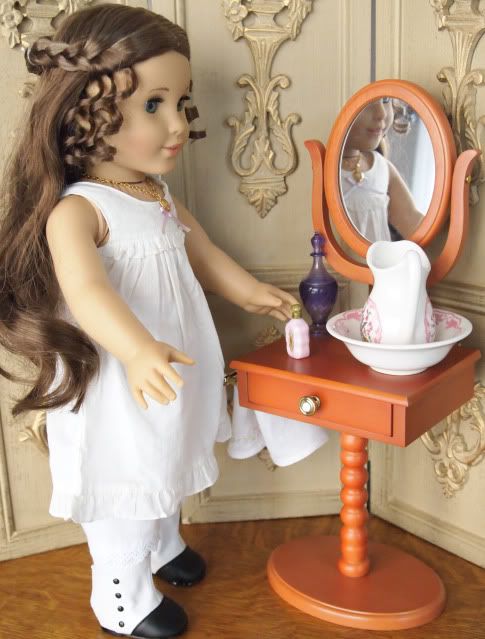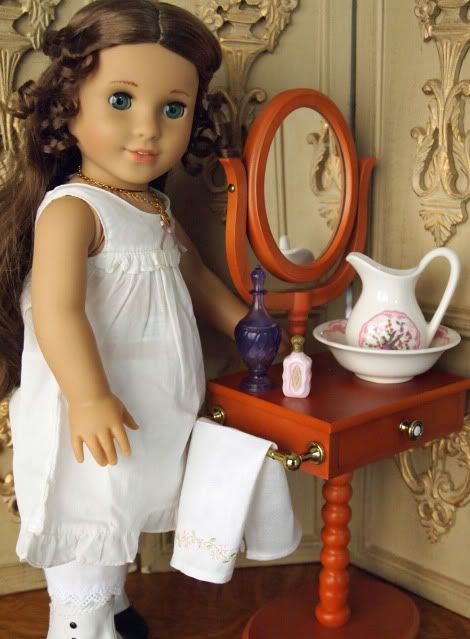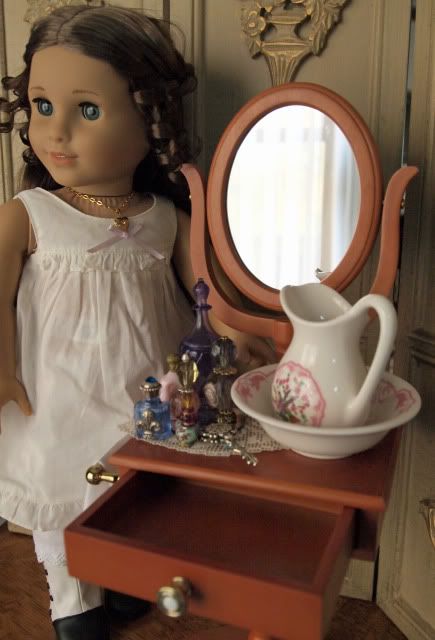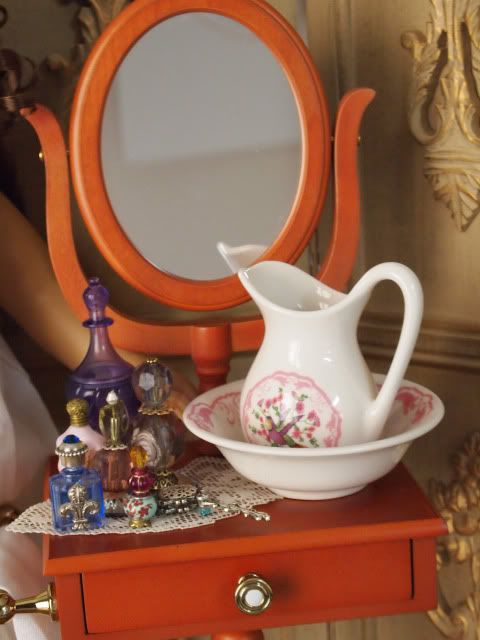 Works well with Ellowyne Wilde dolls: