Post by maggiedoll on Dec 31, 2007 19:00:16 GMT -5
From Playthings website: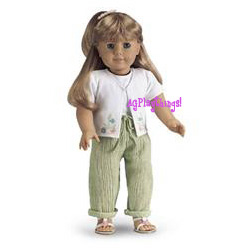 "Breezy Day Outfit
If it's cool by the pool, your American Girl will be glad to have a comfy cardigan to wear over her sleeveless knit shell. Help her kick off her sandals and roll up her drawstring pants so she can dip her feet in the water! A pearly barrette keeps her hair tidy.
$22 GBOG discontinued 2003"
Mine:
*Note: I bought mine second hand on Ebay that did not came with the barrette. I'm sure it is a nice barrette but I did not think it was worth paying the extra money to find one.
It is a nice outfit perfect for slightly cool nights. The
shell
and
cardigan
are made of not-to-thin/ not-to-thick cotton. The shell is sleeveless but covers the shoulder and goes to the doll's neck. If is slightly too big and makes the cardigan slightly too bulky when closed with the pearl button. This would be brilliant if the cardigan was long sleeved. The best part of the part of the cardigan is the embroidery and pearl details.
Each side has a fish, shell, sea star and seaweed. The embroidery is vivid in color, shape and detail. Tiny pearls make seven bubbles. I do not think that this makes the outfit fragile because this outfit was played with and there are no sings of wear.
The
pants
are kind of a disappointment. I was hoping for thick, corduroy type fabric. Instead it is a cheap, thin crinkle type fabric. The drawstring is kind of useless for the waistband is elastic. I could forgive all these fault if the pants were not see though. One could easily see the girl's underwear (if you look you can see my doll's undies and undershirt) and call me prude, but I don't want to see a doll's underthings under her clothing.
The
sandals
are...sandals, nothing noteworthy. They are t-shaped, with elastic around the ankle. The pink stars are cute but flowers for a sea-themed outfit? As you can tell I prefer the retired white tennis shoes with the outfit but these sandles are nice for a not-too-fancy spring/summer outfit.
All together, I would give the Breezy Day outfit a
B
. The faults including lacking in quality and basic nitpickings drags the grade down. On the other hand, the outfit is so cute, and compared to recent American Girl outfits it is not overly girly, pink or fancy. It is perfect for casual days or vacations as well as mix and match potential.