Post by maggiedoll on Feb 8, 2015 15:54:05 GMT -5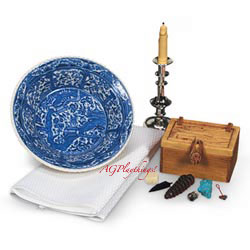 Nighttime Necessities
Item# JDA $20
Retired 2006

Help Josefina get ready for bed with her blue-an-white Puebla basin and cotton towel. Then, pretend to light the candle in the silver-colored candlestick, and open her carved memory box—inside are six tiny treasures: a piece of Mamá's lavender soap, a swallow feather, a silver thimble, a turquoise nugget, a rattlesnake rattle, and a heart-shaped charm called a milagro. Josefina's stories tell why each one is special!
This is my favorite of the nighttime sets, very nicely made and fits well into her stories.
The memory box is tiny and simply made, however it does not seem fragile. A strong fingernail is needed to close the latch. The lid is a real 3D carving of the sun coming over the mountains and a tiny little home. Since it belonged to Mama there is the possibilities for a backstory.
The box holds six TINY little treasures from Josefina's stories. Its an excellent tie in to not only the books, but to Josefina's personality. There is also room for a couple more, I keep her flowers in the box as well.
Although they are tiny, they are very realistically sized to the doll. The thimble fits on Josefina's finger and the turquoise fits into her pocket. The charm could be a bit bigger and the soap has a funny texture, like the attempt was made to try to make a soapy feel but instead has a more greasy feel. The rattle is plastically and has no rattle noise, but I'm sure Josefina would prefer a quiet rattlesnake.
The candlestick is large and a bit heavy, it is made of metal but it seems like it will last well. I love how the curve of the stick seems to fit into Josefina's hand, making a lovely display. The candlestick has a bit "timeless" quality to it, it could fit in anyone's time period from Felicity to even Molly. I quite defiantly declare it but could it perhaps work into Rebecca's stories of her Sabbath candlesticks? I can state that the candlesticks looks wonderful on Josefina's piano.
The underside of the candlestick. I'm not sure what this calls but the base is not completely solid. I don't see it as a problem. I do notice that there are hints of tarnish but thankfully it has not spread.
Not to be an alarmist, but I sat the candlestick on Josefina's nightstand and a few days later I saw staining on the same spot. The nightstand is PM and I also have a Mattel version that does not have this. Could be a stained from its life before me, could be from the candlestick or maybe Josefina spilled some water without me knowing about it.
The candle is removable from the stick. Much like Felicity's it is molded to look like it has been used. It is a bit rubbery and a little flexible. It fits snug into the stick and there is little risk of falling out.
The basin is made of a heavy ceramic, perhaps porcelain or maybe even a type of stoneware. The basin is very heavy, like it was dropped on to a hard surface it would break heavy. It feels like it had been glazed. The blue is medium shade and the white is more of an ivory. Those are the only two colors on the basin.
I really don't know what the image is supposed to be, some rive passing though something. Pretty, though. It kind of reminds me of the stoneware popular in Felicity's time.
I could not understand why the basin did not have the pitcher, where did Josefina get her morning water? Even though the bowl is pretty it seemed like it needed a pitcher. The pitcher from Josefina's birthday set has colors to complement the bowl and it does kind of make sense that Josefina, the youngest daughter would get more of a mix and match set.
The towel is well a towel. It is quite large, with a textured pattern on the fabric. Nice towel but well, it's a towel.
For fun, the nighttime accessories on the bedside table with Josefina's bed and desk. The set matches the rest of her collection, but there does seem something missing, I put the mirror from her summer set and added the pitcher. However, at the end of the day, it is a very pretty set made of fine materials and it matches Josefina the character well. I think this is pivotal of her collection. A