Post by maggiedoll on Jan 24, 2015 21:35:48 GMT -5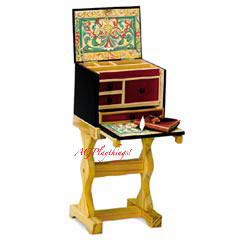 Writing Desk & Stand
Item# JSF $50 -Desk Only
Item# JSF $54
Retired 2006

Tía Dolores's elegant writing desk came all the way up the Camino Real, the trail from Mexico City. Designed to be conveniently portable, it's plain on the outside, pretty on the inside! Set the desk on its wooden stand, lift the lid, and fold down the front flap. Josefina store her books and writing supplies inside. There's even a secret compartment so you can hide a surprise for Josefina.

(after the Books & Supplies were discontinued the ledger, quill pen, and inkwell were included with the desk price rose to $54)
I am reasonably sure my desk is early Josefina, 1998 or 1998. Except from some peeling of the decoration the desk has aged very well and uphold some minor play and/or display.
Given the importance of the desk in her story, I felt that her desk is vital to her collection. It is a very pretty little thing and looks lovely as a display piece I have several issues to that keeps me from loving it.
The desk is in two pieces, the desk itself and the stand. The desk seems a mixture of plywood and paper with metal hinges and the stand a heavier wood. The stand does not fold which to me would make better sense if it was really to be a traveling desk.
When folded up, the desk stayed folded up and I think it would actually keep supplies inside the desk. It is very compact and fits well into the tray of her trunk.
On the other end, once it is open and secured on the stand the desk stays open.
The desk is very pretty on the inside. The dominate color is an earthly red with bits of and gold, all that matches the plain black of the desk. The desk part paper is starting to peal at the corner do to age but that can be covered.
Now to my complaint. The desk is very, very fragile. The lid to the "secret" compartment went down and won't come back up. It is really hard to open the drawers and harder to push it back in. There is sort of feeling that the slightest pull or give will break the desk or a part of it. I know that back in the PC days creating fragile things but as someone who has to deal with cats that broken such delicate things I like playing with things that I feel that a grown woman should not have to worry about breaking a girl's toy.
My second, age old complaint, the desk is tiny! Josefina in my mind is a girl small for her age learning to read and write at her aunt's desk. The doll Josefina towers over the desk and sits kind of awkward with the risk hitting her knees. Speaking of chairs, why is Josefina cursed to go though life on her feet?
For fun, Josefina's writing desk with Cécile's parlor desk. This is sinful in our fandom but the Mattel lovely, well-made and reasonably to scale and looks great with her owner desk is quite better than the tiny, fragile and makes her owner look large and awkward Present Company desk.
I am glad that I own the desk and I think it worth the Ebay search and prices because it is so important to her story and collection. If it was not so fragile and a little bigger it would be such a wonderful piece. B