Post by maggiedoll on Apr 3, 2016 20:38:53 GMT -5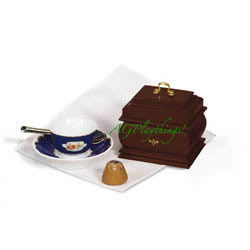 Tea Lesson
Item# ESAL $22
Retired

Here's everything Felicity needs to practice the proper tea ceremony. Tea leaves were stored in the wooden tea caddy. Felicity's dark blue teacup and saucer have an elegant fruit pattern on them. There is no handle on the small china teacup, which came from China back then. Put the spoon on the saucer, her cotton napkin in her lap, and pass her a queen cake. Just be sure her loose tooth doesn't fall out when she takes a bite. How embarrassing!
On a personal note, I am attached to this set because this the first thing I brought as a grownup years after I was denied American Girl as a child. Take that parents!
In the movie, Felicity is a little annoyed that she has to learn how to serve and take tea. However in reality Felicity would had understand from a much early age how important this social ritual is.
The tea caddy is PC wood, light and smooth. It seems study, like it can survive storage and a few falls from the tea table. As mentioned above the caddy would had been locked. Not only because tea was expensive but also shows that the family can afford the cost of such a caddy. The caddy is a nice think but I do believe that it would had been nicer if there was a tea pot.
During Felicity Part II American Girl had a tea caddy with the tea set. Since there is only so much tea one can drink the American Girl version is Felicity's jewelry box (with the cocker poking out). Tea caddy II is slightly larger with smaller gold details.
I really love the tea cup and saucer. They are a lovely shade of blue with a peach and a gold trim. Random historical fact, it was common for people to pour the tea from the cup to the saucer to cool it and drink from the saucer. Felicity might had drunk her tea at home in an informal setting.
With the tea set dishes. Tea Lesson is a lighter porcelain and with enough force can be broken. Aside from the pink color the Tea Set seems more like a toy and the Tea Lesson a reproduction.
The Queen cake is a little...American Girl issue food. It feels rubbery and is tiny. Felicity would had popped this thing in her mouth in one bite, no risk of losing the tooth in biting into the cake. Not much of a lunch but as Miss. Mandlery said "you don't eat because you are hungry."
The napkin is a medium-weight cloth, with a simple weave. It covers Felicity's lap.
I forgot the spoon. It has tarnished with age and it simpler than the spoons with the chocolate set, it lacks the tiny detail that those spoons have. Felicity can hold it.
While the other PC lunch sets get a passing reference in their books, Felicity's actually so an real important part of her education. A young lady had been educated in classics or history but she was not truly an accomplished lady unless she did not serve tea. It is a classic PC way of teaching history to girls without hitting them over the head with it. I think what the set represents is more important than the actual set. After all, what is a tea set without a pot?